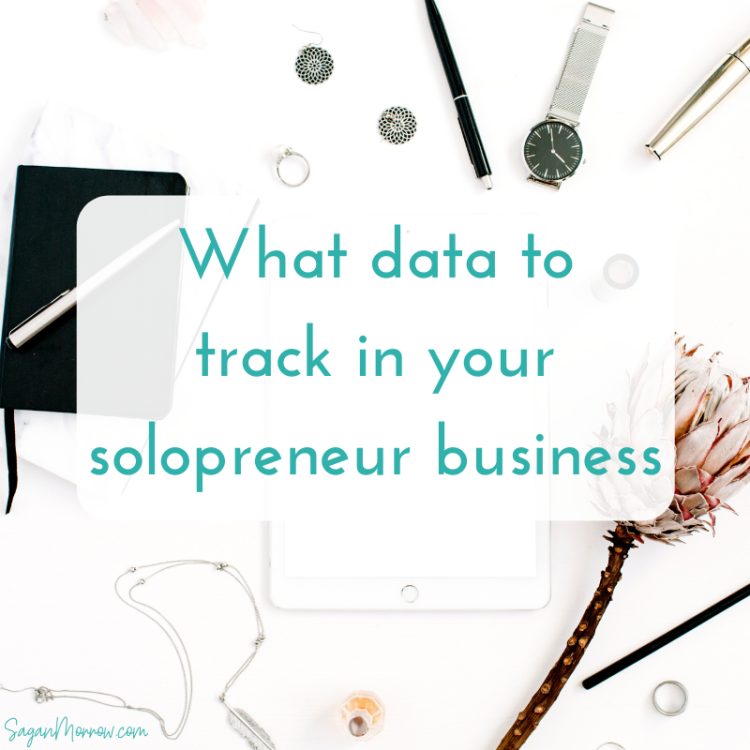 Wondering what data to track in your solopreneur business, and why it matters so much?
The more that you understand your own metrics, numbers, and data as a solopreneur, the more that you can a) use that information to more deeply understand your own business, b) track the progress you make, from a very tangible lens, and c) make informed decisions about what strategies to continue doing, vs. which strategies to pivot.
There's no point in tracking data (or doing anything in business) just for the sake of it, or just because you see other people doing it. Use data tracking as information.
I strongly recommend checking your data as part of your weekly audits (learn all about weekly audits when you join Productivity Powerhouse—my signature anti-hustle productivity e-course that helps you save 10+ hours/week & make great progress on your goals without burnout or overwhelm) and/or during your monthly performance reviews (YES, you should do performance reviews even as a solopreneur! Here's why performance reviews matter)
What data to track in your solopreneur business: 
This is a broad overview. Some of this may be more relevant to you than other parts, and you might want to track other types of data, too. This is a good general starting point!
Traffic and engagement
Posting: number of social media posts and blog articles you've published within the latest timespan vs. during previous timespans
Social media: reach, engagement, followers (look at your highest-performing and lowest-performing posts over the course of a week or a month—what patterns do you notice? When you try replicating it, what happens then?)
Website traffic: pageviews and where that traffic is coming from, length of time viewers stay on your website, where they drop off or leave your website, the "path" they take when on your website (which pages do they visit, and what is their "entry point" or the first page they visit?)
Emails: open rate and click rate (check your industry average to see if you're on track), what your subscribers are clicking on or not clicking, number of new subscribers, number of emails you send and frequency in which you send them, A/B test of subject lines (what performs best?)
Quality is more important than quantity. If you have 30 followers who are your exact ideal client, that will be much more effective for you (and useful for them!) than if you have 300 followers with zero interest in buying from you. 
Also, the lower your numbers, the higher your engagement might be. For example, if you have 50 email subscribers, you could easily have upwards of 60% open rate. If you have 3,000 email subscribers, that open rate might be closer to 30%. 
Business activities
Time tracking: where you spent your time in your business, what tasks you're putting more of your time on, time of day you work faster vs. slower, day of week you take more breaks vs. fewer (this is useful for adjusting your schedule—learn more about time management through an anti-hustle lens in the

3 Steps to 10x Your Productivity free training

)

Clients/customers: number of current clients and client inquiries, prospects you've reached out to and conversion rate into sales, where your clients are coming from, recurring vs. one-time clients, client satisfaction and testimonials and referrals
Financial 
Income: one-time and recurring, total revenue and profit, which services or products made the most sales, which services or products brought in the most income, frequency of sales, actual income vs. income projections, money made and actual cash brought in
Expenses: one-time and recurring, and also the types of categories or areas you spend money on
In the beginning as a solopreneur, your profit margins might be very slim. That's okay! Your business just needs some time (and strategy) to gain traction.
The types of things you invest your money in will also change as your business grows. One of the big mistakes many solopreneurs make is to spend lots of money on fancy software early on, when they don't actually need to do that. 
Instead, you'll benefit more by focusing on expenses that help you get your business really up and running, and take it to the next level faster: e.g. an accountant, a website (doesn't need to be anything expensive or fancy), and business coaching or e-courses to provide you with the tools and strategies for growing your business.
Overall patterns and review of the data
Do the numbers match up? For example, if you spent more time on the platforms that bring in the most high-quality traffic, or if you spent more time promoting the products/services that make the highest amount of income, what would happen then?
Where are there gaps? What is working, and what isn't working? What will you change and what will you keep doing?
There's a lot more data you could track in your business, but this is a really good starting point to begin making great use of the metrics and numbers. Remember, you don't want to track data just for the sake of it. Track your data and use it as information.
An important note on your study and review of the data: If you get to the point where you are simply going through the motions and not using data as information, then that indicates that you are relying on it and depending on it for external validation and an ego boost. 
When you get to that point, pause your review of the data for a while. It isn't helping you at that point, so you're just wasting time and energy by constantly looking at it.
Get support in making great use of data as information in your business when you join Solopreneur CEO! Solopreneur CEO helps you go from struggling to successful, and it's a powerful coaching and mentorship program with practical, fully customized strategies and action plans to support you in scaling your business and becoming your next-level CEO self.
Learn more about anti-hustle productivity & success coaching—and get started now.