Thinking about hiring a business coach for your solopreneur business? Let's go over everything you want to know about solopreneur business coaching, how it differs from general business coaching, why it matters for YOU, and whether hiring a solopreneur coach makes sense for your unique business needs…
Quick background: I am an anti-hustle Productivity Strategist and Success Coach for solopreneurs (with over a decade of experience as a solopreneur, international board certification as a Success Coach, and more than 6 years coaching other solopreneurs — more details in my Solopreneur CEO coaching program).
But what exactly does that mean for YOU, as my client? Let's break down everything you want to know about solopreneur coaching, and help you decide whether solopreneur coaching is right for your business…
But first!
Here are indicators that YOU can benefit from the coaching that I do with my solopreneur clients…
You know you "should" spend your time doing particular tasks, but you lack the motivation & desire to do that work — So you just don't do it (and then you feel bad about yourself and disempowered that you aren't "getting ahead" or making the progress you WANT to make on your goals).

You're stuck with your solopreneur business, and you keep spinning your wheels but you're not GETTING anywhere. You're pulled in too many different directions trying to do all the things, so you become overwhelmed and frustrated — You're not getting anything done very well or very quickly.

You

can

be productive, but it has come at the expense of your energy, personal time, and happiness — You feel as though you live to work.

You honestly don't know how to fit it all in without dropping the ball.

You feel like you've tried every "productivity hack" or time management technique yet nothing ever sticks.

You waste so many hours of your life trying a new way of choosing and planning goals, deciding that it doesn't flow well, and starting all over — And you're frustrated because you KNOW all of that time and energy could have been spent achieving your goals instead of just thinking about them.

You feel guilty about what you're working on in your business, and you're experiencing some shame about your (lack of) progress.

You're excited about the projects you're working on, but procrastination engulfs you to the point that you continue to put that fun project off (because you continue to see other tasks that youI feel you need to complete first), until you are pushing deadlines and must work excessive hours to complete it — You're BEYOND ready to get off the procrastination roller coaster.
Does any/all of that sound familiar?
...Then keep reading, because this blog post is for YOU!
---
What IS — and is NOT — coaching?
Coaching is a way to unlock your full potential. Coaches work with you to discover the best answers for you, with you; coaching uncovers the hidden depths within yourself so that you can live the life and experience the success you truly desire.
Coaching is not about your coach giving you all the answers or forcing you to do things this way vs. that way. Instead, your coach should be skilled at asking the right powerful questions at the right time to guide you to the answers you seek.
Why should I care about coaching? What can coaching do for me, as a solopreneur?
Here's why you should care about coaching, and what coaching can do for you when we work together…
Coaching enables you to dive deep into the root problems holding you back so that you can finally overcome those issues — For example, if perfectionism is something you've struggled with all your life, then we'll dive deep into that together so it stops being such a big obstacle, once and for all.

Coaching gets you better results, faster, than if you were doing everything all on your own — And it gives you a "sounding board" and safe space to share your ideas, get feedback, and finally feel seen and heard.

Coaching paves the way for you to finally live the life and experience the business you desire — So that you have true clarity and focus on your goals, so that everything is aligned fully to your personal values and vision, and so that you feel true joy with every aspect of your business.
What is the difference between coaching vs consulting? 
If you want someone to tell you exactly what to do, hire a consultant. Consultants will advise you on the best path to take based on their expertise. A consultant has knowledge and expertise in your industry, and they will advise you based on what has been effective in their professional experience. They will be able to easily tell you to do this in such-and-such a way vs don't do that.
Coaches do not need to have an intimate understanding of your industry, because much of the work is internal: coaches help you to overcome your hurdles and the ways in which you might be holding yourself back.
With coaching, the goal is to find the answers within the client, and bring those to light. Coaching, therefore, is deeper inner work, as well: One of the things I focus on with my clients is to work with them so they understand WHY they've been procrastinating or caught in perfectionism etc. This is really important, because then they can actually overcome those hurdles.
That's also why consulting can be great as long as you aren't getting in your own way… because it doesn't matter how much you're told to do, if what you're told to do from that consultant a) isn't the right fit for you or b) isn't something you're able to truly implement because internal struggles are holding you back.
Consultants are beneficial if you want someone with professional background to tell you how to do a thing, whereas coaches are beneficial if you "know" what to do but have a difficult time DOING it.
By the way, it doesn't need to be all or nothing! I incorporate some consulting into my 1:1 Solopreneur CEO coaching program so that you can get the best of both worlds.
In Solopreneur CEO, I use a unique blend of coaching and consulting to provide you with the best of both worlds. Typically we spend the majority of our time coaching during our sessions, however I can also advise you on business management best practices.
(This is also why I work 1:1 with clients in a variety of fields and they all consistently get great results — for example, my 1:1 clients over the years have included freelance editors & writers, photographer, sonographer & YouTuber, baker, brand strategist, florist, motivational speaker, and others)
What is the difference between coaching vs therapy?
Coaching is NOT the same as therapy. One of the main (broad) differences is that coaching tends to be very goal- and future-oriented, whereas therapy tends to be focused more on the past and mental health. 
That being said, one of my Solopreneur CEO clients informed me recently that **she got more out of one session we had together than she had from several years of therapy.** And she has had some really great experiences with therapy over the years! 
Let me be very clear: Coaching is not a substitute for therapy. I believe that therapy can be fantastic and extremely beneficial for the vast majority of people. However, when we take that above client comment into account, it's worth keeping in mind: The results you get from either therapy or coaching can be very dependent on *who* your therapist or coaching is, and how much you resonate with them, the rapport between you, and your relationship, as well as how ready you are for the experience. 
You don't need to choose between therapy and coaching, either. Both can be highly beneficial for many people!
What is the difference between solopreneur coaching vs generalized business coaching? Why should I get a solopreneur coach for my solopreneur business?
One of the biggest problems I see in the business coaching industry is that general business coaches — who are not well-versed in the solopreneur business model — often view solopreneurship as "less than" other business models. 
In fact, some of the worst advice I've seen in the business coaching industry is how many business coaches will say "You can't scale a business unless you have a team. You need to hire employees/contractors ASAP and delegate to them." 
No, no, no! 
Not all of us WANT to hire a team. And to be frank, the assumption that you "need a team to grow your business" lacks imagination and vision. 
Psst... I shared more about this topic in an IG video back in summer 2021, and you can watch the replay right here:
Why does solopreneur coaching matter? Solopreneur business coaching takes the highly unique solopreneur business model into consideration, and doesn't try to force you to change your business model into something you don't actually want.
What is the difference between productivity coaching vs generalized business coaching? 
Productivity coaching (the way I do it!) focuses on your overall business systems, processes, organizational structure, strategies, etc, so you can improve productivity and get results faster.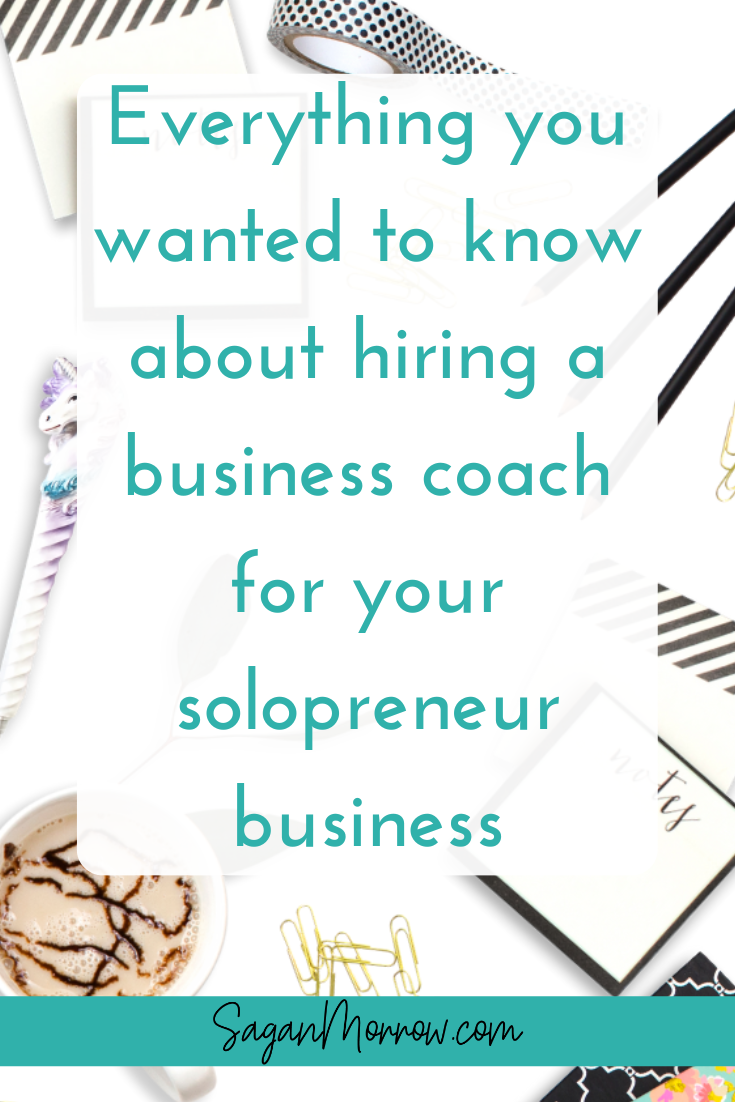 Generalized business coaching might be more focused on the specifics around getting clients and marketing your products/services, for example. 
One of the big "gaps" I see in general business coaching is that **if you don't have strong foundations in place** (which is what we do together in Solopreneur CEO), then it doesn't matter how many clients you get or how many sales you make — because you could just end up being a stressed out, burned out, hot mess.
In fact, a common trend this past year especially has been high-level online business owners (making multiple 6 figures or 7 figures) who have burned their businesses to the ground because they realized that they were unhappy and exhausted. 
I don't want YOU to get to that point. The coaching work that you and I do together ensures that your business scales sustainably, so that you have plenty of energy and healthy business foundations while you are getting clients and making more sales.
Click HERE to find out why anti-hustle productivity matters so much.
How is 1:1 coaching different from an e-course?
I've taught many online courses over the years, and they are a fantastic DIY option for you if you want the information and are in a good place to apply it for yourself. (My signature anti-hustle e-course, Productivity Powerhouse, is a great example of this)
Getting 1:1 coaching is about the done-with-you experience. It's perfect if you want/need more accountability, guidance, or support; if you enjoy getting feedback and guidance and bouncing ideas off of someone else; if you are aware that you have some areas that could use improvement; if you want to make more progress, faster, and get the results you desire without doing it all on your own.
Why 1:1 coaching matters… 
I am an internationally board-certified Success & Life Coach, and it has been absolutely incredible to see the types of results my clients get from 1:1 coaching with me. Even if they've taken my e-courses in the past (and gotten great results with them), and even if they've had some awesome successes in their life/business previously, they are consistently blown away by how POWERFUL 1:1 coaching is and the difference it makes in their lives and businesses. 
For example…
"[Before Solopreneur CEO], I was frozen. Stuck in perfectionism, imposter syndrome, information gathering and procrastination. I was struggling to make any kind of progress in my business. 

And then I met Sagan. In Solopreneur CEO, Sagan pushes me. She pushes me past my comfort zone, past the things I'm stuck on, and past the fears, doubts and struggles that had me paralyzed.

I've only had 4 sessions with Sagan and in that short amount of time I have developed a business plan, created realistic goals, and learned multiple strategies for getting unstuck. I've created and put my first digital product up for sale, I'm making huge progress on my goals, the future of my business feels exciting for the first time, and my goals finally seem attainable. I have made more progress in 4 sessions with Sagan than I have in a year on my own.

[Now I know] the biggest obstacle in my path was myself. Procrastination, perfectionism, information gathering and getting held back by tech were masks that I was using to hide the fear, doubts, and anxieties that were building up inside me. Sagan helps you recognize what's really holding you back, gives you strategies for dealing with these obstacles and helps you to develop a strong mindset so that you can finally start to conquer your goals. She sees what's really behind the things that you are struggling with and always knows the best ways to get you unstuck and moving forward.

I highly recommend Solopreneur CEO. It's the best investment in your business and your future that you can make. Sagan is a master at recognizing the true causes of my struggles and providing solutions to get me to move forward."

- Michelle, sonographer & YouTuber
What is solopreneur coaching?
Solopreneurs, as I mentioned earlier, have a very unique business model. When you are a solopreneur (like me, and like my clients), you essentially *are* your business, and vice versa.
This means that it's difficult to "parcel out" your business from yourself. When I'm coaching solopreneurs, we combine business coaching with life coaching; we often explore things through both the personal and the professional side of things in your life and business. 
Solopreneur coaching takes into account how your business model is different from every other business model out there, and it celebrates that about you! Solopreneur coaching is also a very holistic approach because we're balancing out your personal life and your professional life, and ensuring a strong connection between the two, so that your business and your lifestyle integrate, compliment, and support one another.
Do solopreneurs need a business coach? 
Nope! No one "needs" a business coach. 
…However, the vast majority of solopreneurs CAN benefit from a business coach.
Here are some of the specifics a business coach can do for your solopreneur business: 
Help you overcome perfectionism, procrastination, distraction, overwhelm, dissatisfaction, motivation struggles, burnout, time management frustrations, and more.

Empower you to achieve your desired goals faster, more easily, and more enjoyably than if you did it on your own.

Provide you with support throughout the business journey so you stop holding yourself back.

Work with you through your unique struggles and celebrate your awesome progress with you.

Guide you to realizing and embodying your full potential — upgrading your life and business along the way.
Want all of the above? Then it's a great idea to hire a business coach!
How do I know I'm ready to hire a solopreneur business coach?
There is no "criteria" (such as X years of experience in business or making $X/month from your business) in order to be eligible to getting business coaching with me.
I've worked 1:1 with clients who just have an idea of a business in their head and haven't started it yet, as well as clients who have been in business for 7+ years and know that they are capable of doing and being more and better.
You are probably already, all ready, to hire a solopreneur business coach. If you're thinking about it, if you're wanting this experience for yourself, then that is your sign that you are ready for this. 
How to choose a solopreneur business coach…
Hire a coach who is present with you. Hire a coach who sees you. Hire a coach who resonates with you. Personality fit MATTERS for YOU to get your best experience from it. One of my favourite things that happened with a Solopreneur CEO client (who, by the way, is renewing for another 6 months in 2023!) is that prior to her hiring me, she asked multiple questions *and* informed me she was in conversation with a couple other business coaches. 
I love that. I think that's great! Don't settle for less than what feels great for you. There are many options out there. If I'm the best fit for you, fantastic! If I don't provide you with what you want/need, I want you to go with the coach who WILL do that for you. 
I intend to fully book out Solopreneur CEO by the end of November (so yes, I'll be talking about it until that happens ;)). And at the same time, I want to work with people who I genuinely believe I can best serve. 
If I don't book out because you find someone who's a better fit, I'm (more than) okay with that. I want YOU to be successful and fully satisfied with your life and business, in whatever that looks like for you. 
And if that means solid work/life balance, an uprooting of underlying issues currently contributing to your perfectionism/procrastination/distraction/overwhelm, and a business that fully supports your personal values/goals and ideal lifestyle — *and* you resonate with me — then I am probably going to be a great choice as your business coach.
>> Click HERE for behind-the-scenes insights into exactly what happens during our business coaching calls, plus real-life examples of results my clients get from our sessions.
What is Solopreneur CEO coaching? 
Solopreneur CEO is my 6-month 1:1 coaching program that involves a hybrid of mentorship, teaching, and consulting layered on top of the main focus (which is coaching). 
It is specifically designed for solopreneurs and the very unique business model of solopreneurship, so we often incorporate life coaching with it. We also use a foundation of anti-hustle productivity methodologies to ensure that you are building a solopreneur business in a way that feels fantastic for you, and that fully supports your ideal lifestyle and personal life goals and values.
We work TOGETHER to identify the BEST options for YOU. 
I will not tell you that you NEED to…
Quit your 9 to 5 job

Hire a team or contractors
Offer this service vs that product
Change your prices or offerings
Use social media marketing vs email marketing vs other marketing options
…etc
When you hire me as your coach, you are not hiring me to force you into a box. You are not hiring me to tell you that you MUST do XYZ in order to be successful. 
---
You are hiring me to uncover the hidden depths within you. 
You are hiring me to discover the best answers for you, with you. 
You are hiring me to unlock more of your own potential; to upgrade and up level your life and business to meet — and exceed — your expectations. 
---
I am NOT in the business of telling you to do this vs that (although I am willing to share my opinion with you, of course, if you want to hear it). 
I *am* in the business of tapping into what YOU want & need, and how YOU can best make that happen — in the most delightful, easeful ways possible.
There you have it! Everything you wanted to know about solopreneur business coaching.
So: Are you ready to hire a solopreneur business coach for your solopreneur business?
I'd love to work with you, and LIMITED spots are available in my 6-month 1:1 Solopreneur CEO coaching program…