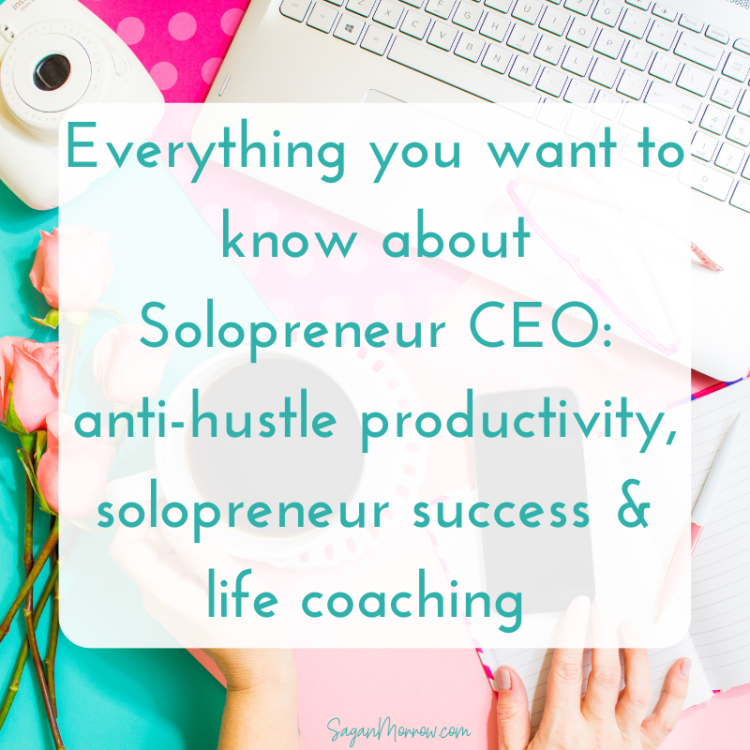 Okay, I know I write you a lot of looooooong blog posts (I can't help it! There's so much I want to share with you!), but this might be my longest one yet, ha!
My goal is always to make sure that you have ALL the details you need to make the right decision for you & your business — and since we are currently booking out Solopreneur CEO for a January start date, I want to take some time today to answer basically every possible question you might be wondering about! 
What is Solopreneur CEO? 
Solopreneur CEO is a 6-month 1:1 coaching program (layered in with mentorship, consulting, and teaching, so that you get both deep inner mindset work AND practical strategy/action steps) that helps you create a true lifestyle business, so that…
Your business fully supports your personal life goals, values, and ideal lifestyle.

You make great progress on your goals *while also* taking back control of your time & energy.

You get to prioritize your family, hobbies, etc — WITHOUT "dropping the ball" on client work or excellent customer service.

You "get out of your own way" and overcome the struggles, frustrations, and obstacles that have been tripping you up.

You enjoy every aspect of your life and business (and they're integrated in a way that feels really delightful for you)
How does Solopreneur CEO work? What can I expect during this 6-month 1:1 coaching program?
You and I meet twice a month on video for your coaching session, during which time we'll overcome your internal obstacles, design strategies that light you up, and map out your plans and tasks based on your goals. (We'll also get clarity on your goals together, so don't worry if you're currently struggling with your business vision.)
You'll get accountability, motivation, support, and guidance throughout your business journey.
"Wow! I feel like my questions are so big in my brain, and then we talk about them and solve them in 3 minutes during a [Solopreneur CEO] coaching call... This is so helpful!"

- CJ, pet photographer
Here's the transformation you can experience as a Solopreneur CEO…
Month 1: CLARITY
You will have complete, utter clarity on your goals and offerings—and the best ways to turn those big business dreams of yours into reality... We'll indulge your curiosity to get crystal clear on EXACTLY what you want from your life & business.
FEATURING: Identity & Intention Setting ~ Productivity Magic Audit ~ Business Planning Retreat
Month 2: ENERGY
You will end the cycle of overwhelm, improve your mind/body connection, set everything up to prevent burnout from happening again, and learn to save 10 hours/week (EVERY week)—with plenty of energy leftover at the end of the day or week to enjoy that extra time however you please.
FEATURING: Energy Advancement Techniques ~ Burnout Prevention Planning ~ Goal Achievement Strategies
Month 3: CREATIVITY
You will set up your fully-customized business structure in a way that supports your ideal lifestyle—and you'll tap into your unique creativity to inspire and motivate yourself (and to be able to connect more deeply with your customers/clients).
FEATURING: Inspired Customization ~ Creative Consciousness ~ Ideal Business Development
Month 4: CONFIDENCE
You will overcome fear and embody confidence, so that you STOP holding yourself back... You'll gain the confidence you need to keep making awesome moves with your business & accomplish your goals.
FEATURING: Confidence Booster Blueprint ~ Dynamite Rule Breaking ~ Maverick Leadership Embodiment
Month 5: PLEASURE
You will experience genuine joy and excitement about the work you do—including the systems, processes, and structure that your business exists in (pleasure not just in the tasks themselves, but in how you APPROACH those tasks). 
FEATURING: Sophisticated Simplicity Methods ~ Ease Analysis ~ Business Structure Blueprint
Month 6: COURAGE
You'll finally feel like a real CEO, your business will be able to run itself without you needing to be at the helm 24/7, you'll be on your way to achieving the dreamy goals we set together at the beginning of the program, and you'll have the courage to continue to pursue your dreams... Your business will have the capacity to grow with ease, while supporting both your clients AND yourself.
FEATURING: Sustainable Scalability ~ Transformational & Professional Excellence ~ Daring Business Growth
I'm really busy and overloaded. How much time will this take me?
You get two 1:1 coaching sessions each month (each coaching call is about 60 - 75 minutes), plus you can expect to spend an additional 1 - 2 hours/week on this program. That's it!
This program is also FULLY customized to your unique situation. If you want to spend more or less time on Solopreneur CEO, that's totally okay. We'll adjust it as needed.
(By the way, I have clients who are recovering from burnout, trying to build their side hustle while doing hectic 9 to 5 jobs, raising kids, etc. They are delighted at how refreshing Solopreneur CEO feels, and how it actually EASES the overload & overwhelm)
Who is Solopreneur CEO for?
Solopreneur CEO is designed for small business owners and solopreneurs who are deeply committed to being a business owner, but you're not satisfied with your current work/life balance… 
You might be struggling with people-pleasing, imposter syndrome, perfectionism, overwhelm, procrastination, and/or burnout. You know your business can be MORE than it is, but you're not sure how to get there. You feel stuck and frustrated — or you're just ready to level it up and finally experience the true lifestyle business you desire; you're ready to achieve your goals and enjoy genuine work/life balance!
Who is Solopreneur CEO NOT for?
Solopreneur CEO is not a good fit for you if you want a "tough love" coach, or if you want a "drill sergeant" coaching style.
There's nothing wrong with those methods — they're just not how I do coaching! 
This is also not a good fit for you if you want someone else to "do the work for you." I guide you, support you, help you with the strategy (and I'll make recommendations to make your work 10x easier, and we'll shift gears if you're struggling), and give you feedback on your work, but I don't do the work for you.
Can I see what other people say about their experience in Solopreneur CEO? 
Yes! Here are 2 case studies: 
ALSO: One of my clients made this great observation about Solopreneur CEO…
"I think Solopreneur CEO is great for you if you want a coach who understands the solopreneur business model inside-out. It's also awesome if you want to do some of the deep work that comes up when you're a solopreneur, since our solo businesses are often so intertwined with us as individuals.

But, if you're the type of person who wants somebody to tell you exactly how and when and why to do everything in your business, that's not Solopreneur CEO. Sagan really works *with* you rather than *at* you, so you need to come into it ready to think and reflect and work on more than just a task list.

Also, though Sagan is awesome with accountability, she is not the tough love type of coach, so if you're looking for more of a drill sergeant to help with your business, Solopreneur CEO is probably not the right fit.

I think if you're on the fence, Productivity Powerhouse is a great way to get to know Sagan a bit and get a lot of benefits from her teaching methods and frameworks. A lot of Productivity Powerhouse stuff comes up in Solopreneur CEO, so it's a great way to sort of test-drive the program."
FYI: You get a backstage pass to Productivity Powerhouse when you join Solopreneur CEO, OR you can upgrade *from* Productivity Powerhouse *to* Solopreneur CEO — and be fully reimbursed for your initial investment into Productivity Powerhouse when you do so!
Productivity Powerhouse is like the DIY version of Solopreneur CEO! Full details & enroll in the e-course here.
Tell me the logistics! What do I get inside Solopreneur CEO?
When you join Solopreneur CEO, you get access to $17,700 worth of value...
(Yours for a fraction of the price)
6 months of one-on-one coaching, consulting, and mentorship from Sagan — This is high-level, deep work, fully customized so you get the best experience
Welcome Package in the mail with some fun, useful surprise goodies to help your business, right away!
2 coaching calls/month (12 in total), where we'll transform your relationship with your business & plan out your best action steps together — Includes review & discussion about your business progress, brainstorming & recommendations for overcoming hurdles, deep coaching for business & life success, productivity & business strategy, actionable steps to take, reflection check-ins, and more
Recordings of each coaching call, plus comprehensive bullet-point recap in a follow-up email to cover all of the main points we discussed & key takeaways, and action steps for you to do before the next session (no worries about missing anything or forgetting something we discuss!)
Concrete action steps & implementation time between coaching calls, so you never have to wonder about what to do next
6 months of unlimited email/voice/text messaging access in between sessions, in case you have questions at any time throughout the program, or if you need a confidence boost, pep talks, and motivational support along the way
Personalized feedback on your work, plus customized self-coaching exercises and thought experiments, audio recordings, and EFT tapping sessions (as needed)
Complimentary backstage pass to Productivity Powerhouse e-course & certificate program (retails for $2,000—full reimbursement available for existing Productivity Powerhouse clients, because I don't believe in double-charging you!)
Meditations & EFT tapping sessions to accompany each of the 9 core lessons inside Productivity Powerhouse (perfect for assisting with somatic techniques)
Business Planning Retreat Intensive e-course featuring guided questions, sample schedule, templates, and more for hosting your own solo business planning retreat (makes it that much easier to design a business plan you love)
 Opportunity to renew for another 6 months at your initial rate (this means that even when the price increases in the future, you won't be affected by it!)
I'm not sure if I'm ready for Solopreneur CEO… Should I wait to join?
You're probably more ready than you think 😉 If you feel nervous about the idea of joining Solopreneur CEO, but you also know you want something more from your life and business, then this program is great for you. (You can always email hello[at]saganmorrow[dot]com & ask about your particular situation so I can advise you personally)
I am here to support you every step along the way. 
I have an established business and plenty of clients. Is Solopreneur CEO too "beginner" for me?
NOPE. I've had my business for 12+ years, so I completely understand some of the complications you might be running into that are more prevalent for established business owners.
If you already enjoy plenty of success in your business (e.g. you have lots of clients and consistent revenue), *but* you a) don't have the work/life balance you desire, and/or b) want to shift gears and be even MORE successful, then Solopreneur CEO is a great fit for you.
(By the way — I've also seen a number of multi-6-and-7-figure business owners get burned out and need to completely rework their businesses over the past year. Literally everything I teach is exactly what they are only just starting to realize in their own businesses. You can be a wildly successful business owner but still have a tough time with the work/life balance side of things. I'm here to help you with that!)
I just have an idea for a business, but I haven't started it yet. Is Solopreneur CEO too "advanced" for me?
Not necessarily! Solopreneur CEO is entirely adapted to your unique needs. I've had clients who are just starting out and find it really useful to get this level of support and guidance right from the beginning with their business. (You're basically skyrocketing your success in this way!)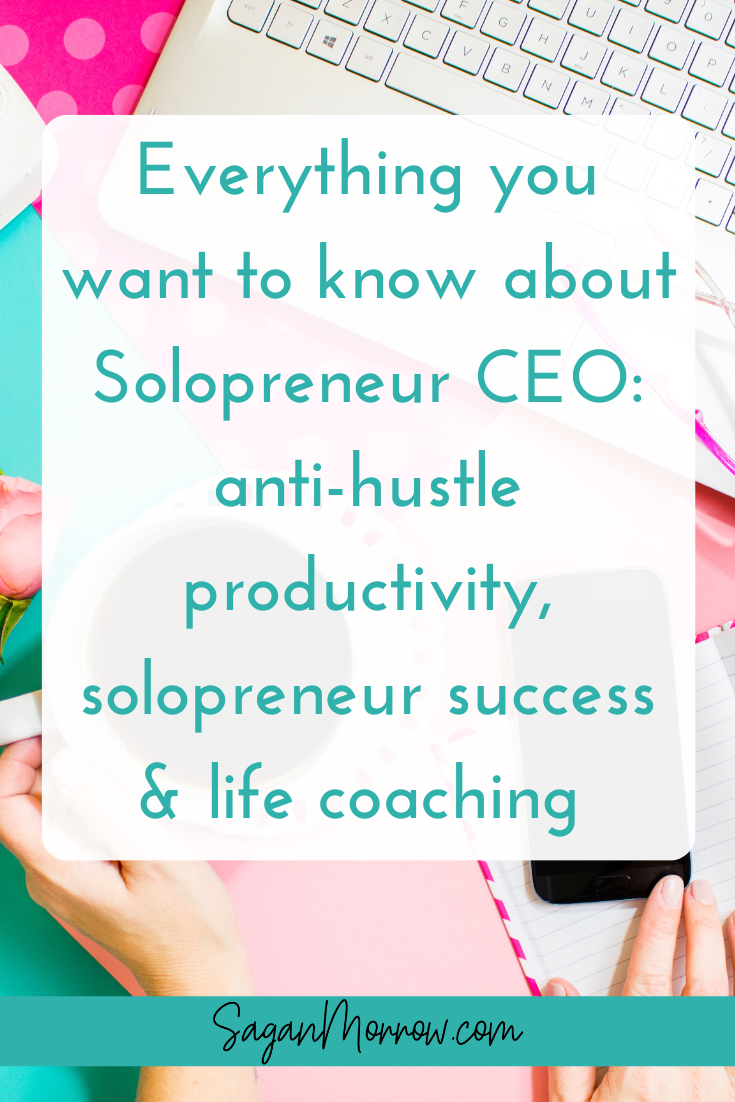 You also get a backstage pass to Productivity Powerhouse, which basically teaches you all about how to create business foundations and structure (plus goal-setting, business planning, strategizing, etc), so it's a wonderful starting point for any aspiring solopreneur.
"Solopreneur CEO has been the single best decision I've made for my business since I started it. And one of the things I love about it is that it wasn't prescriptive--Sagan truly got to know *me* and what *I* want and tailored her coaching to help me get there.

A lot of things I've done in the last six months, I wouldn't have done without her guidance and accountability. And the other things I've done, I would have gotten to eventually, but they would have taken me years rather than months. I am really happy with my experience. Happy enough to renew for another six months!"

- Toni, freelance editor
What if I'm somewhere in the middle — I've started my business but it hasn't quite taken off yet! Is Solopreneur CEO the right fit for me?
You're among the majority of my 1:1 clients 😉 Most of my 1:1 clients have had their business for 2 - 3 years, and some of them are side hustling but haven't quit their 9 to 5 job yet. 
If you're in a similar boat, Solopreneur CEO is PERFECT for you.
How do your clients describe your coaching style?
Here's what a couple clients have said about my coaching style: 
"[On a coaching call] first Sagan listens (she's incredibly patient), and then she unpacks what's really behind your excuses, struggles and obstacles. She offers solutions and strategies. And then she pushes you, gently, just past the point of your comfort zone, into what I like to call the achievement zone. This is where true progress and true growth occur. Real success occurs when you expand your mind, push past your limitations and develop a mindset that failure is not an option, and this is what Sagan excels at bringing out in you."

- Michelle, sonographer & YouTuber

"Sagan is really good at working to understand your mindset so that she can give advice that's truly tailored to you and your experience. I've never once felt negative pressure or dismissal from her--her suggestions might make me a little uncomfortable at times, but it's always in a good, just slightly beyond the comfort zone sort of way, not like she's throwing me into the deep end without a life vest. Sagan also provides encouragement, reassurance, and commiseration, and she's full of practical tips, too."

- Toni, freelance editor
Can I see a sample of your coaching style?
Sure can! Check out this 10-minute vlog where I do a quick, generalized coaching session on working through perfectionism.
What happens if I get stuck, overwhelmed, or dissatisfied with the program?
We deal with your "stuckness," overwhelm, or dissatisfaction ASAP! Your satisfaction is of the utmost importance to me when we're working together.
For example, if you are struggling to meet the goals we set up during coaching sessions, we fully analyze it to understand why that struggle is happening, and pivot as needed (either the strategies or the goals, depending on the root source of struggle).
Part of the reason why we have 2 weeks between each session is so that it gives the time/space for implementing action steps, and if you find that certain tasks keep being backburnered, then we'll do a deeper assessment of it. We also set up weekly reviews/planning so that we can keep an eye on anything that's a struggle, identify the root of procrastination, and change goals if they end up not quite being what you truly want. 
We do a lot of unpacking during our sessions to make sure you stay on track! This is also where it can be useful to use the email/voice/text messaging in between sessions to get additional support/encouragement/recommendations if you're struggling at any point.
What are the Terms & Conditions of this program? 
I'm committed to full transparency with this program, which is why the Terms & Conditions are available to you before you join — you can check them out when you scroll to the bottom of THIS page.
Feel free to email hello[at]saganmorrow[dot]com & ask questions if you want clarity on it!
Are there any bonuses?
Yes! You get BONUS e-courses when you do the pay-in-full option (up to approx $400 value) from the SaganMorrow.com School. 
These e-courses will be hand-picked to meet your particular needs — I'll make suggestions for you after you join Solopreneur CEO and complete the welcome survey. And if none of the e-courses fit your needs, then you'll get an extra complimentary one-on-one session instead as your special pay-in-full bonus!
How long do I have to decide whether to join this program?
Space is very limited! Once all 6 spots are booked, we'll be all filled up for the first half of 2023.
(It's tough to say how long space will be available… I recommend grabbing your spot sooner rather than later so you don't miss out)
What is the investment? 
Solopreneur CEO is valued at more than $17,000 — but it's all yours for just $5,979!
You can also get our 6-month (interest-free) payment plan of just $997/month (our most popular option).
What if this doesn't pay off? 
You can read a blog post right HERE about *how to navigate the Wild West of coaching* that responds to this concern, plus 7 other hesitations you might have about hiring a business coach. 
"My family asked if I got my money's worth out of getting one-on-on coaching with Sagan—and I said, 'YES!' Just getting responses to all my email questions would have been worth it!

I am extremely grateful for all the time Sagan devoted to me and how she took the time to answer all of my questions in-depth. She's superb at answering questions, and she gives wonderful feedback. Sagan's encouragement and ideas helped me disregard my doubts!"

- Richelle, freelance editor (1:1 client prior to the Solopreneur CEO program)
I have more questions about coaching that you haven't answered here… Where can I get those answers?
Here are your 3 options: 
Email me at hello[at]saganmorrow[dot]com with your question(s)! I'd love to help you make the best decision for YOU. Any & all questions are welcome.
Okay, I am IN! What happens next? How soon do we get started when I join Solopreneur CEO? 
Wonderful! I'm really looking forward to working with you.
I'm currently booking for our January 2023 start date. I strongly recommend that you join now to lock in your spot!
As soon as you join, you will a) complete your Welcome survey, b) get immediate access to Productivity Powerhouse, and c) receive your Welcome Packet in the mail prior to our January start date. We'll schedule all of our calls at your convenience before January so you can block off those meetings on your calendar (FYI: Typically we do sessions Tues - Thurs, 9am - 4pm PT, however we can accommodate other days/times if those don't work for your availability).
Ready to start the new year on an incredible footing? Let's do this: