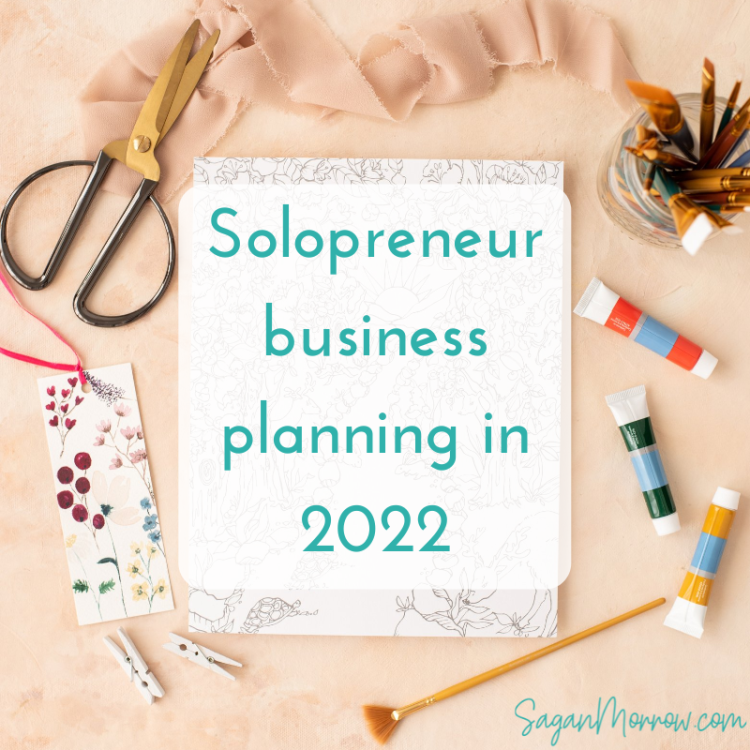 Wondering what makes for a successful solopreneur? In this series, we'll go over successful solopreneurship! Today's feature is all about solopreneur business planning in 2022… 
This series dispels common misconceptions about solopreneurship—because it can be HARD to go it alone when you're a solopreneur! If you have any questions or requests for future articles in this What Makes For A Successful Solopreneur series, just email hello@saganmorrow.com! 
Check out other articles in this series: 
Before we go any further, one more thing: successful solopreneurship begins with identifying your solopreneur archetype 😉 Find out yours in the FREE Solopreneur Archetype training (you'll be able to easily identify which of the 3 solopreneur archetypes YOU are, plus what to do to overcome your particular hurdles, in this quick 29-minute training)
Now let's dive in: Solopreneur business planning 2022…
Do you know what you want for your business in the new year?
When you imagine what your life and business will be like, at this time next year... What are you dreaming about? What do you envision for yourself?
(I'm serious. Close your eyes and think about it. What comes up for you?)
Now: What will you do, in order to get to that moment you're dreaming about? What is your actual plan for getting there?
It's one thing to DREAM about *what could be*...
...and it's another thing to make real MOVES in the right direction!
Dreams are magical. Imagination is a very important practice for every business owner. And also: at some point or another, you need to create a real (intentional & strategic) plan, and take real action, to see your vision turn into reality.
So... What's your plan?
And do you know if your plan—when you get around to creating it—is set up to BEST get you results? (Is it a good plan?)
If you're feeling stumped on any of these questions, you're not alone ♥ This is a big hurdle for solopreneurs at all stages of business! And this is why I designed Solopreneur CEO to support you.
This is the #1 coaching & mentorship experience for co-creation of your ideal business model. We're taking solopreneur business planning to a whole new level in 2022!
By joining Solopreneur CEO, you are getting…
✔
THE BEST PLAN TO GET YOU RESULTS.
We'll create a customized plan that fits beautifully with your business & life goals—so that you feel confident, knowing that the actions you're taking are the best for turning your vision & dream into a reality. 
Psst… You'll get access to my signature business planning methods that are custom-designed for solopreneurs, including access for how to do guided weekly audits, monthly performance reviews, a swoon-worthy documentation manual & decision-making matrix that helps you manage your business… and more!
✔
ACCOUNTABILITY & MOTIVATION.
I'm helping you stay on track with the RIGHT tasks, so you don't waste time, energy, or money on the wrong things… and I'll be there to pick you up when you're struggling. You are not alone.
If you're struggling with anything, I'm not going to leave you hanging. We'll pivot your plans, re-strategize, and focus on the best actions to help you see success. Your success with this program is my #1 goal. I want you to walk away from Solopreneur CEO 6 months from now, knowing that this was the most powerful, transformative, delightful, and beautiful investment you could possibly have made.
✔
YOUR TIME BACK.
My productivity methods are proven to save you up to (and exceeding) 10 hours/week, every week. Yes, really. These methods have successfully been used by parents of small children, people who are neurodivergent, brand-new business owners who are still working 9 to 5 jobs while starting their side hustle, long-time business owners who want to improve their systems & strategies, introverted solopreneurs, and more.
Plus, you'll get your ENERGY back, too. If you feel like you're too exhausted to do much in your business, or you're stuck because you aren't sure if you can handle things where you're at, or you wish you had the capacity to enjoy life more… We'll get you there!
✔
AN AWESOME & SUCCESSFUL BUSINESS YOU LOVE—THAT SUPPORTS YOUR PERSONAL LIFESTYLE.
As a Solopreneur CEO, you are getting skills & expertise development for your business, clarity & guidance, confidence & courage building, and high performance competence for next-level business mastery.
Work/life balance can be yours! Your business can support everything you want for your idea of personal life success. We'll adjust your schedule, ensure your business model reflects what you actually WANT to do, and set up a powerful business structure that leaves plenty of room for scaling and pivoting along the way.
You are a great fit for this program if...
→ You want THIS year to be your best business year ever. You can only keep spinning your wheels for so long before you KNOW it's time for something to change! This year can be your year of epic, life-changing business planning & action taking… Levelling up to a whole new Solopreneur CEO lifestyle.
→ You're tired of being told "You just need to work on your mindset," or "Do business in this one cookie cutter template, even if it doesn't resonate with you at all." We are so DONE with that, aren't we? Solopreneur CEO incorporates a unique combination of coaching, consulting, teaching, and mentorship so that you are getting a fully customized experience, tailored to your unique struggles—so we can actually FIX them, once and for all.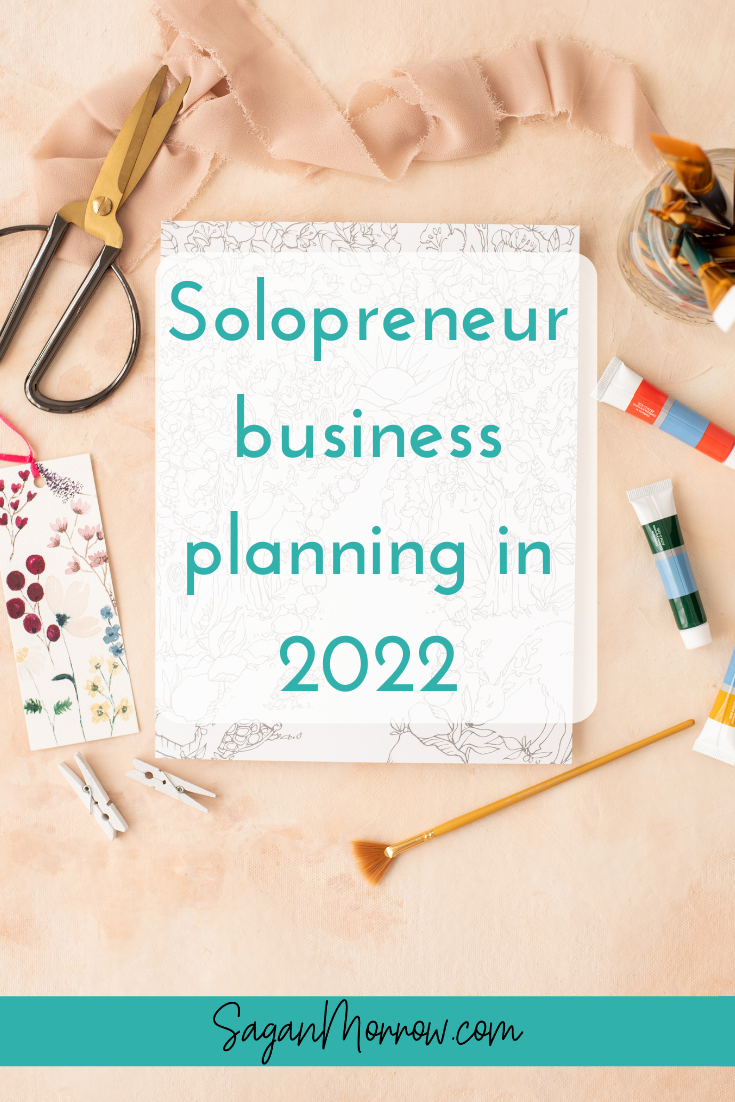 → You're frustrated that you haven't generated a return on your time, energy, or money from the self-paced learning you've done on your own (e.g. courses, books, etc)—You're don't know how to turn this all around, but you're ready for something to finally be the tangible CHANGE you need.
→ You want a coach who's top priority is serving YOU best. FYI: I am constantly investing in my own continuing education, building my skillset, and upgrading and deepening my knowledge of these topics to do exactly that. My goal is always to serve you better today than I did yesterday.
→ You like the idea of a joyful, delightful business... but you can't figure out how to make it HAPPEN (and you're beginning to wonder if it's just too good to be true)
→ You want to feel supported... You want someone to HEAR you... You want to focus on building your brand & business, without getting sidetracked or attacked by imposter syndrome.
Your success is my #1 priority. I'm deliberately taking a step back from other aspects of my business for the duration of this program, so that you get all the support you need at this stage of your business & life!
...And because of my 10+ years of experience as a business owner in a variety of industries, proven transformations for dozens of other solopreneurs, internationally board-certified coaching qualifications, and specialized frameworks designed for solopreneurs like you, you can breathe easy, knowing that this is the program to get you where you want to be.
It's valued at over $17,700, but it's yours today for a fraction of the price.
(Psst... space is LIMITED)
Now, you might be thinking:
"I don't know what to do, to give me the support I need... The next few months are so busy! I don't know how to find TIME for anything."
Sound familiar?
Let's turn that around! You want clarity. You want more time. You want support. You want guidance.
...You want Solopreneur CEO! This 6-month coaching & mentorship program starts in January and features tangible, practical action steps—We get you unstuck AND restructure your business so that it supports your energy levels and your lifestyle needs.
What I will help you with...
Here's specifically what we'll do together:
6 months of one-on-one coaching & mentorship

with me — This is high-level, deep work, fully customized so you get the best experience

2 coaching calls/month

(12 in total), where we'll transform your relationship with your business & plan out your best action steps together — Includes review & discussion about your business progress, brainstorming & recommendations for overcoming hurdles, deep coaching for business & life success, productivity & business strategy, actionable steps to take, reflection check-ins, and more

Recordings of each coaching call,

plus quick bullet-point recap in a follow-up email to cover all of the main points we discuss, and action steps for you to do before the next session

(no worries about missing anything or forgetting something we discuss!)

Concrete action steps & implementation time

between coaching calls, so you never have to wonder what to do next (may include conducting performance reviews & productivity audits, creating your business structure, putting together your decision-making matrix, designing your marketing strategy & business plan, and more)

6 months of unlimited email/voice/text messaging

access in between sessions, in case you have questions at any time throughout the program, or if you need a confidence boost & motivational support along the way

Backstage pass to Productivity Powerhouse

e-course & certificate program

(retails for $2,000—full reimbursement available for existing Productivity Powerhouse clients, because I don't believe in double-charging you!)

SaganMorrow.com legacy programs with lifetime access to 12 solopreneur-specific e-courses ($1,196 value)
You get ALL of that when you join Solopreneur CEO ♥
...and it'll take just 1 - 2 hours/week, so that it doesn't feel overwhelming or tiring when your brain needs a break. If you're not sure if you have time for this program, Solopreneur CEO will give you back your time!
It won't take up a bunch of your capacity—it will give you MORE bandwidth & capacity.
Ready to take your business to the next level in 2022? Let's do it together!
Solopreneur CEO is valued at over $17,700, but it's yours today for a fraction of the price.